Nepal on the way to a new future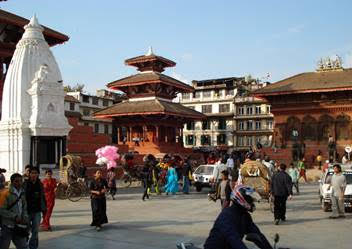 On behalf of the Embassy of Nepal in Berlin, the Honorary Consulate General of Nepal and the German-Asian Business Circle (DAW), we would like to cordially invite you to the presence event "Nepal on the way to a new future" on May 30, 2022, starting at 5:00 pm, at the Sheraton Hotel Büsingpalais Offenbach.
Nepal has reopened its borders to tourists and business people for about half a year. Since April 2022, a PCR test is no longer mandatory for entry, it is sufficient to show a booster vaccination against covid.
After the welcome and introduction by Bodo Krüger, President of DAW and Honorary Consul General Nepal, H. E., Mr. Ambassador Ram Kaji Khadka, will speak about the current situation of Nepal. After that we are looking forward to the presentations of Dr. Andreas Hofmann from GIZ, section Economy and Tourism "Which way has Nepal to go from GIZ point of view", and Dieter Schulze-Vornhagen, KfW, Kreditanstalt für Wiederaufbau, showing the steps for possible investments in Nepal. Furthermore, we are still trying to find a German company to report on their experiences in working with Nepalese companies. For details please refer to the enclosed program.
Let yourself be enchanted by the Nepalese music and discuss with us after the presentations at the buffet and drinks. Admission is free. We are looking forward to a lively participation.
17:00 – Registration
17:30 – Musical prelude
18:00 – Welcome and introduction
Bodo Krüger, President of DAW, Honorary Consul General Nepal
18:15 – Speech on the situation of Nepal
H. E., Ambassador Ram Kaji Khadka, Embassy Nepal Berlin
18:30 –  Musical performance
18:45 – New wave of tourism after the pandemic
"Which way does Nepal have to go from the GIZ point of view".
Dr. Andreas Hofmann, Section Economy and Tourism
GIZ Society for International Cooperation
19:00 – "Investing in Nepal".
S. E., Botschafter Ram Kaji Khadka, Botschaft Nepal Berlin
19:15 – Establishing and dealing with Asian business partners using Nepal as an example
Jens Konrad, Director, Customer Care, Monotype GmbH, Berlin
19:30 – Invitation to buffet and drinks – Networking
Kontakt:
Adresse: Robert-Bosch-Str. 32,
Office twenty, building C, 2nd floor,
63303 Dreieich bei Frankfurt,Germany
Telefon: +49 - 6103 - 7315333
Fax: +49 - 6103 - 7315331
E-mail: daw@daw-ev.de
Webseite: www.daw-ev.de
Finden Sie uns auf Social Media:
LinkedIn
Copyright © Deutsch-Asiatischen Wirtschaftskreis e. V. 2023